POST HOLE DIGGING MARKHAM
ABOUT POST HOLE DIGGING IN MARKHAM
Need the best, most reliable, post hole digging in Markham? Call the experts at CityWide. Whether you are building a new deck or need secure fencing for your facility, trust CityWide to provide you with excellent customer service and superior workmanship.
For over 20 years CityWide post hole digging has provided the region with quality fencing, post hole digging, and decks. We pride ourselves on high-quality workmanship at an affordable price. Call CityWide today. Our friendly staff will be happy to help you.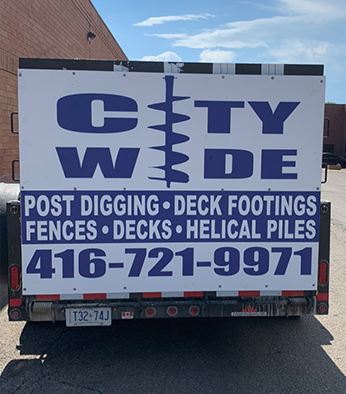 Andrea Ng.
The Citywide Post Hole Digging team came to the rescue when we needed posts installed for our fence and deck. A highly professional, experienced, responsive team as well as reasonable pricing. Without a doubt, highly recommend Citywide for all your post installation needs!

Chiara Tassone
Exceptionally professional, courteous and efficient service. Price point was more than fair given scope of work. Would highly recommend this team. Great experience.

Ken Nepaul
I can't thank Citywide enough for the great job and great service. The work they did installing my fence was outstanding. Sam and the team were extremely professional and very friendly. Sefi in the office was an absolute pleasure to deal with. She responded immediately and answered all my questions. I will be recommending Citywide to family, friends and colleagues. Thanks again

Bertie Low-Ring
Sam and his wife were so helpful, courteous and patient with my amateur questions about post holders and footing size. They answered all my questions and their team on site were friendly, courteous and efficient. I would definitely recommend their service as it was positive from start to finish and a warranty to go with it!

a c
Amazing!!! Sefi was always there to answer any question. Crew was very professional. Show up on time. Did 14 post on 2 hours. Fast. Clean. Answer my question. Give me good advise. Clean and very good price. Paid on site with credit card. Wish I had more yard to do more work with them. A+

Rinat Elyakim
It was such an amazing experience to work with Citywide. The team was highly Professional‼️‼️ The job Exceed my satisfaction. I would highly recommend them to all my friends.

Bob Malhotra
Jordan and his team of two young men were fantastic to work with... very professional and courteous ... would highly recommend these guys to anyone, especially after our bad experience with another post hole company that went sour very fast - the whole experience was like day and night ... trust me!

Nina Dragicevic
The front porch is beautiful. The digging team (led by Sam) was incredibly fast and clean. The carpenters (Tieg and William) were friendly, hardworking, punctual and patient with our dogs -- and the finished project is just stunning. The porch wraps around a tree and has a secondary platform. It looks so good that someone pulled over on the road and asked the carpenters to quote for them too. The price was VERY reasonable, by the way, and the quoted price was kept. We would recommend this company to anyone and we hope we can work with them again soon.